Management Team
Executives

Coppy Holzman is the founder, chairman, and CEO of Charitybuzz. Coppy has over 25 years of experience as a senior level internet and consumer products executive. He is credited with developing the upscale cause marketing fundraising niche that is now gaining such momentum. Coppy was one of the founders of webvan.com, where he defined the brand, helped raise capital, and wrote the business plan that ultimately resulted in the largest e-commerce ln United States history. Under his leadership, following its initial IPO, webvan had a market cap exceeding $7 billion and had raised in excess of $750 million dollars to finance its expansion plans. His responsibilities included all merchandising, buying and marketing activities including supervision of content management and all website publishing. He also spent many years in senior level corporate retail positions serving as Senior Vice President for Federated Department Stores responsible for Global Sourcing and Production. Coppy has a B.S. in Economics and International Business from the Wharton School of Business.

Favorite Cause


Because of my work, there are many causes I care about deeply. But I was asked to pick just one. It sounds kind of corny and cliché, but our children are our future. That's why I support programs and nonprofits who help advance education and provide enrichment programs to kids who may have gone under the radar."

Sameer Chowdhury is the Chief Technology Officer at Charitybuzz. Sameer has over 12 years of technology experience architecting, implementing, and deploying scalable web applications. Sameer leads our team of world-class team developers that's behind the Charitybuzz platform. Prior to his work with Charitybuzz, Sameer was a senior software engineer and architect at a number of companies including Rackspace and IDT.

Favorite Cause


Ghandi said 'You can judge the morality of a nation by the way the society treats its animals,' and I support ethical treatment of animals, wherever they may be."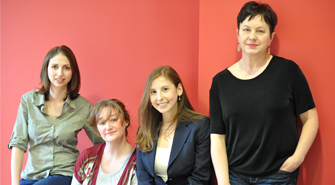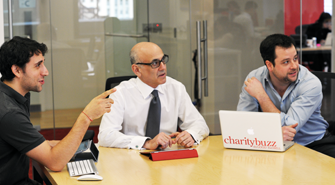 Company Directors







Ben Erwin is our Director of Business Development. In his role, he focuses on maximizing revenue through forging long-term partnerships with nonprofit and corporate clients. Over the 4 years he has been with Charitybuzz, he has helped grow the company exponentially and now manages a staff of full-time employees and regional representatives around the globe.

Favorite Cause Human Rights
I am very passionate about empowering young human rights defenders both in New York City and abroad. A few of our partner organizations have inspired me to become involved with this important issue during my career at Charitybuzz.
Glenda Felden, is our Director of Marketing and Communications. She manages strategic messaging, media relations, social media, influencer relations, digital advertising, conferences and awards, and marketing activities. Her team harnesses digital and traditional channels to maximize awareness, customer engagement, and bidding. Prior to her work at Charitybuzz, Glenda led strategic public relations campaigns for internet, technology and lifestyle brands including PCMag.com, BarnesandNoble.com, Harrah's Entertainment, The Rink at Rock Center and many others.

Favorite Cause Women's Education and Empowerment
There are dozens of causes I support, but I'm most passionate about empowering and educating women and girls in developing nations. Time and again, it's been proven that unleashing the vast potential of women is the key to lifting families and communities out of poverty. Luckily, there are some incredible organizations fighting to ensure that these girls have access to the educational resources we often take for granted.
Ian Manheimer, is our Director of Corporate Strategy. Prior to Charitybuzz, Ian was founder and CEO of the award-winning shopping engine, Measy.com, one of PC Magazine's "10 Most Promising Startups of 2010." Concurrently, Ian was founder and Executive Director of Glassbooth, a nonprofit focused on civic education. In 2008, Glassbooth was named "Best Political Website of 2008" by CNET. Ian was formerly at dropping knowledge international (dki). Before joining dki, Ian was Investment Analyst at The Democracy Alliance.

Favorite Cause Democracy
I support democracy initiatives around the world, because I believe in people. Self-determination is an inalienable right, and it is constantly under attack. It's something that we can all get behind and support.
Erin Hall was one of the first employees of Charitybuzz. As Director of Celebrity Relations, she is responsible for the philanthropic initiatives of our celebrity participants. Prior to that, Erin was an Auction Specialist and managed multiple, large-scale charity auction events with responsibilities for all phases of pre-auction planning and execution. Before joining Charitybuzz, she worked as a Special Events Coordinator for The American Red Cross and at the Levitt Pavilion in Westport, CT.

Favorite Cause Animal Rescue
I am a big supporter of animal rescue. I have two dogs I rescued from the Turks & Caicos and two cats I rescued through PetFinder. With the millions of adoptable dogs and cats that are euthanized every year, I just can't image paying for a purebred pet.
Alexandra Gardner, is the Director of Finance and manages our financial analysis. In her role, she overseas the operations team including accounts payable, accounts receivable, corporate budget, income statements, balance sheet, profit and loss, forecasting and corporate cash flow. Alex also oversees corporate Human Relations. Prior to joining Charitybuzz, she worked at AHL Man Group LLC, H & P and Bridgewater Capital ET.

Favorite Cause Ocean Conservation
Ocean pollution is the biggest crime on this planet. I believe we are all empowered to make a global change by local action. Saving a sea turtle from drowning made me feel like a super hero. After that, I decided to pledge all my vacation time to volunteer for ocean conservancy. Since single-use products from boats and seaside picnics accounts for 60 percent of the trash in the ocean, I also encourage everyone to become a recycling ninja and keep our blue ecosystem intact. Lets save our oceans together. One sea turtle at a time!
Jennifer Promis is our Director of Auction Process. She works with multiple disciplines across the company to support the identification and implementation of new or enhanced practices and systems impacting auction execution and efficiency. Before assuming this role, Jenn was an Auction Specialist from 2007-2010 at Charitybuzz. Prior, she worked as the Merchandising/Sales Associate at the corporate headquarters of Martin Lawrence Galleries.

Favorite Cause Arts Education
As a student of the arts, I am a firm believer in the importance of arts education in our schools. Not only does arts education inspire creativity, passion and individuality, it helps children develop social and emotional skills, academic achievement and is an integral part of their growth process. Whether it be music, dance, theater or the visual arts, each child deserves to be exposed to the arts as a safe forum for self-expression.
Cheryl Thompson is our Content Director and is responsible for the messaging and images of charitybuzz.com, outbound customer communications and promotional materials. Before taking on this role, Cheryl was an Auction Specialist at Charitybuzz for 4 years. Cheryl has over 20 years experience in sales, marketing and advertising for software and retail companies.

Favorite Cause Child Hunger
It breaks my heart to hear about hunger among children, especially here in the US where so much food is wasted. I regularly donate quality food to my local food bank and try to spread the word. Even in the affluent Connecticut town where I live, there are families who depend on that small food bank to feed their kids. Donate money, your time or food to your local food bank – and not that can of anchovies you've had in the back of your pantry.
David Lee is our Director of Business Analysis. David analyzes current auction metrics, as well as client and customer relations to initiate and institute new revenue generating strategies and increase overall engagement with bidders and clients. Before assuming this role, David was an Auction Specialist from 2010 - 2012. Prior to Charitybuzz, he worked as an Account Executive at DDB Worldwide at their global headquarters in New York City.

Favorite Cause Human Rights
My personal favorites are causes dedicated to fighting for basic human rights of those around the world. Working at Charitybuzz, as well as personal volunteer work, has given me a great perspective of how lucky we are to live and work where we do. With that awareness, I hope to impact change to those around the world who weren't as fortunate to be born into better circumstances and all that comes with it; basic access to food, water, shelter, personal safety and freedom."
Board of Directors
Peter Borish is Chairman and CEO of Computer Trading Corporation, an actively managed fund focused on macroeconomic investing. The company is a spinoff of Tudor Systems Corporation. Mr. Borish was a founding partner of Tudor Investment Corporation where he was Director of Research for 10 years. As a philanthropist, Mr. Borish is a founding member, with Paul Jones and Glenn Dubin, of the Board of Directors of the Robin Hood Foundation which funds New York City educational projects for disadvantaged children. He is a founding board member of Math for America, an non-profit led by Jim Simons to improve mathematical education in U.S. public schools. He is currently a mayoral appointee to the Youth Board of the New York City Department of Youth and Community Development. Identifying opportunities that enhance financial market efficiencies has driven many of Mr. Borish's other endeavors. This includes Quadriserv, Inc. a technology driven securities lending platform, which emphasizes price transparency and process efficiency. He has also served as CEO of Twinfields Capital Management, a global macro hedge fund focused on the fixed income sector, and Chairman of the Board of Directors of OneChicago, LLC. Additionally, Mr. Borish now serves as Chairman of the Institute for Financial Markets, a nonprofit dedicated to participating in the development of standards and fostering best practices initiatives in the financial services industry. Previously, Mr. Borish served as a Board Member of the Futures Industry Association (FIA), a Special Advisor to the Board of Directors of the Chicago Board of Trade, and as a staff member of the Presidential Task Force on Market Mechanisms (Brady Commission) to study the stock market decline of October 1987. He earned his BA in Economics and Masters of Public Policy from the Gerald R. Ford School of Public Policy at the University of Michigan.
Jon Melzer, is a Director of the Company and was its President from September 2007 through January 2008. Mr. Melzer has been a financial professional for over thirty years. He is currently a Managing Director and head of the Industrials Investment Banking Group at Duff & Phelps Securities, LLC. Prior to joining Duff & Phelps, he was co-head of Mergers and Acquisitions and Managing Director at HoulihanLokey. Prior to joining HoulihanLokey in 2001, Mr. Melzer was co-head of the middle market M&A group at First Boston, head of M&A at Rodman &Renshaw and head of the Consumer and Industrial Products Investment Banking Group at PricewaterhouseCoopers Securities. For over twenty five years, Mr. Melzer has provided M&A advice to companies in industries as diverse as consumer products, basic manufacturing, distribution, healthcare, automotive, leisure, chemicals, energy, financial services and business services and has overseen the completion of over one hundred and fifty M&A transactions. Mr. Melzer holds a B.A. with distinction, from Stanford University and an M.B.A from New York University (Stern School).
Brad Reisner is a co-founder and former Chief Technology Officer of Charitybuzz. His vision enabled the suite of applications and global scalability across platforms. He has over 20 years of technology experience with a specialization in database technologies and application server logic. Mr. Reisner is also a co-founding partner of Igicom, a web development and applications consulting firm. He has managed engagements for Time Warner, Proctor & Gamble, Chicago Tribune, Cablevision, Fortune Live Media, Bertelsmann, WNYC, AFL-CIO, HomeDelivery, Jones Apparel Group, Tommy Hilfiger, AIG, DDB Worldwide, Advance Magazine Group (CNP), Vitamin Water and Nike. Mr. Reisner is also the Chief Technology Officer of Nehst Studios, a film, television and production company that enables internet financing for film concepts. Mr. Reisner was named the Vice President of eCommerce Technologies for the Book-of-the-Month Club and Time Life Books, both divisions of Time Warner.
Peter Sachse was named Macy's Chief Stores Officer in February 2012. Previously, he served as the company's Chief Marketing Officer since May 2007 and chairman of macys.com since April 2006. Sachse is responsible for the nationwide portfolio of Macy's stores, as well as the region and district stores organization and visual merchandising. He also has responsibility for the company's omnichannel strategy, which brings together stores, online and mobile capabilities to serve customers whenever and wherever they want to shop. Sachse began his retail career in 1980 at Macy's in Kansas City. Throughout the next nine years, he held positions of increasing responsibility. In 1992, he was named senior vice president and general merchandising manager at The Bon Marché in Seattle. Five years later, he was named executive vice president and general merchandise manager at Macy's East in New York. In 1999, he was named vice chairman, director of stores at Macy's East, and in 2001, became the president of The Bon Marché. Sachse was Macy's first chief marketing officer when the Macy's Corporate Marketing organization was formed in 2003.
Advisory Board
Shauna Brook is the Chief Marketing Officer and Executive Vice President of Brand Strategy at Lipman. She is responsible for brand strategy, marketing and communications for fashion and luxury clients within the Lipman agency, as well as brands within the Lipman Brand Investment portfolio. Prior to her position at Lipman, Brook was the Vice President of Global Marketing and Communications for David Yurman. Ms. Brook oversaw all aspects of brand strategy for the iconic jeweler—including advertising, public relations, direct mail, CRM, e-commerce, VIP relations, social media, and wholesale and retail marketing. Thanks to her understanding of the luxury market, she developed strong David Yurman brand recognition domestically and abroad. Before joining David Yurman, Ms. Brook worked for over a decade at Giorgio Armani where she was the Vice President of Marketing and Special Events. During her tenure, she oversaw the marketing, advertising, CRM and event strategy in the United States for the entire Giorgio Armani brand portfolio—including Giorgio Armani, Emporio Armani, and Armani Casa. Ms. Brook is a member of the Forbes Executive Women's Board and the National Association of Professional Women and is actively involved in the Baby Face Foundation. In 2011, Brook was honored by Boston University as a College of Communication Distinguished Alumni and serves as a member of the Deans Advisory Board for the Boston University College of Communication. A native of Massachusetts, Brook attended Middlesex School and received her BA in Mass Communications and Public Relations from Boston University.
Jayni Chase is the founder of the Center for Environmental Education a respected environmentalist for over 20 years. Jayni created The Center in order to provide K -12 teachers and students with the resources and materials necessary to build strong environmental education in our nation's schools. The Center has grown into one of the strongest and most vital outreach programs for educators world-wide. Ms. Chase's, Blueprint for a Green School (Scholastic, 1995), is a compilation of over 7,500 sources of environmental information, resources and ideas for schools that want to 'Go Green.' Ms. Chase has served on numerous boards, including, Friends of the Earth, the Antioch New England Institute, Mothers & Others for a Livable Planet, Global Green USA, Californians Against Waste and The Coalition for Clean Air. She served a two-year term in 2002-2003 as the Chair of the Board of Directors of Friends of the Earth and in 2004 she was awarded an honorary degree in Environmental Studies from Antioch New England Graduate School for her work in the field of environmental education. Her extensive awards include the Celebrity Fight Night Humanitarian Award of 2005 which she shared with her husband, Chevy Chase. In 2004 and 2005 Jayni received the Audubon Women in Conservation Award and the Thorne Ecological Institutes Environmental Award respectively.
Serena Chew is a co-founder and former Chief Creative Officer of Charitybuzz. During her tenure, she led design collaborations with Christie's, Polo Ralph Lauren, Fashion and Friends for Japan, Bloomingdale's, Macy's, Audemars Piguet, Chevrolet, Discovery Channel, CFDA, Variety, ClearChannel and Urban Zen. A pioneer in web design for over 17 years, she is also a co-founding partner of Igicom, a web consulting firm, specializing in the development of tablet, mobile and content applications. At Igicom, she leads engagements for Time Inc. properties including TIME, People, Real Simple, InStyle, Cooking Light, This Old House and Fortune, as well as application development for AT&T, Comcast, Merrill Lynch, DoubleClick, NYSE, Goldman Sachs, Bookspan, Maghound, CondeNast Publications, Cablevision, Intuit, Unilever, Columbia House, Rodale, Lifetime Television, and Berlitz. Ms. Chew was the Associate Design Director at AOL Time Warner's Pathfinder and designed web interfaces for Fortune,Money, CNN, NY1, and Zagat. Prior to Time Warner, she designed the graphical interfaces for Reuters LPC. Ms. Chew has a BA in Studio Art with a concentration in Computer Art from the University of Vermont.
Jonah Goodhart is a pioneer in the online marketing industry, as well as an experienced entrepreneur. Jonah is the Founder of Moat and the founding investor and board member of Right Media, a founding partner of WGI Group, co-CEO of the Smarter Ad Group, as well as a founder of Point Ventures Group. Jonah supports several charitable organizations, including Echoing Green, Anthony Robbins Foundation, RFK Center and DoSomething.org. Jonah holds a B.A. degree from Cornell University.
Kerry Kennedy is the President of the Robert F. Kennedy Center for Justice and Human Rights. She is the author of The New York Times best seller "Being Catholic Now: Prominent Americans talk about Change in the Church and the Quest for Meaning," and "Speak Truth to Power: Human Rights Defenders Who Are Changing Our World," She is Chair of the Amnesty International USA Leadership Council and serves on the boards of directors of Human Rights First and Inter Press Service. Ms. Kennedy received high honors from President Lech Walesa of Poland for aiding the Solidarity movement. Ms. Kennedy has served in numerous political campaigns, and she is a member of the Massachusetts and District of Columbia bars. Kerry is also the mother of three daughters, Cara, Mariah and Michaela.
Stuart A. Sundlun has served as Managing Director of BMB Advisors Ltd, a company providing financial advisory services to the BMB Group SPC since 2007. Prior to BMB Advisors, Mr. Sundlun was a managing director of Global Emerging Markets, a New York City based investment fund that acquires and invests in both public and privately owned businesses. From 1998 to the present, Mr. Sundlun has been actively involved in structuring and negotiating equity investments in emerging growth companies including Digital River, Inc., Star Scientific, Inc and Intercontinental Fuels, LLC. From 2001 to the present, Mr. Sundlun has also been an advisor to Triago SA. In addition, he has structured a variety of private equity investments in Russia including South Oil Corporation, where he serves on the board, and Helios Petroleum Holdings, AG. Mr. Sundlun has also served on the Board and investment committee of the Dignity Fund LLC. From 1986 to 1994, Mr. Sundlun was a Managing Director of Grosvenor Equities, Inc. and participated in the raising of equity for a variety of private companies including early stage venture capital, growth stage and leveraged management buyouts. Early in his career, Mr. Sundlun was an associate in the Corporate Finance department of Lehman Brothers. Mr. Sundlun graduated cum laude from Harvard University (John F. Kennedy School of Government) with a B.A. and received his M.B.A. in finance from Columbia University Graduate School of Business.